Huahine: Tahiti's Affordable Garden Isle
Each of French Polynesia's Society Islands has their own distinct aesthetic. Tahiti has deep mountain valleys. Moorea's visitors often note its lurid, craggy peaks and picturesque bays. Bora Bora has the iconic Mount Otemanu rising from the center of a brilliantly hued blue lagoon.
Huahine, roughly in the center of the island group, is known as the "Garden Isle" of French Polynesia. While each of the group's islands is botanical and verdant, Huahine is perhaps best likened as the territory's most well-tended garden.
While land plots elsewhere in French Polynesia have a tendency to appear timeworn and rather haphazard, those on Huahine have the pride of place one might expect in the English countryside.
Less trafficked by visitors (the vast majority are destined instead for Bora Bora), Huahine is also a far more low-key destination than its glitzier neighbors. The island's ritziest accommodations here are solidly three-star—a boon for visitors seeking immersion in the region's fantastical natural beauty without the eye-popping price tag.
Unique geography also impacts a different feel from neighboring islands. Huahine is actually two separate islands—Huahine Nui and Huahine Iti—separated by a very narrow channel. At points between the islands, the atmosphere feels more akin to a mountain lake or a valley drained by a wide, lazy river—terrains rather uncommon in this island group overwhelmingly framed by vistas of the boundless Pacific.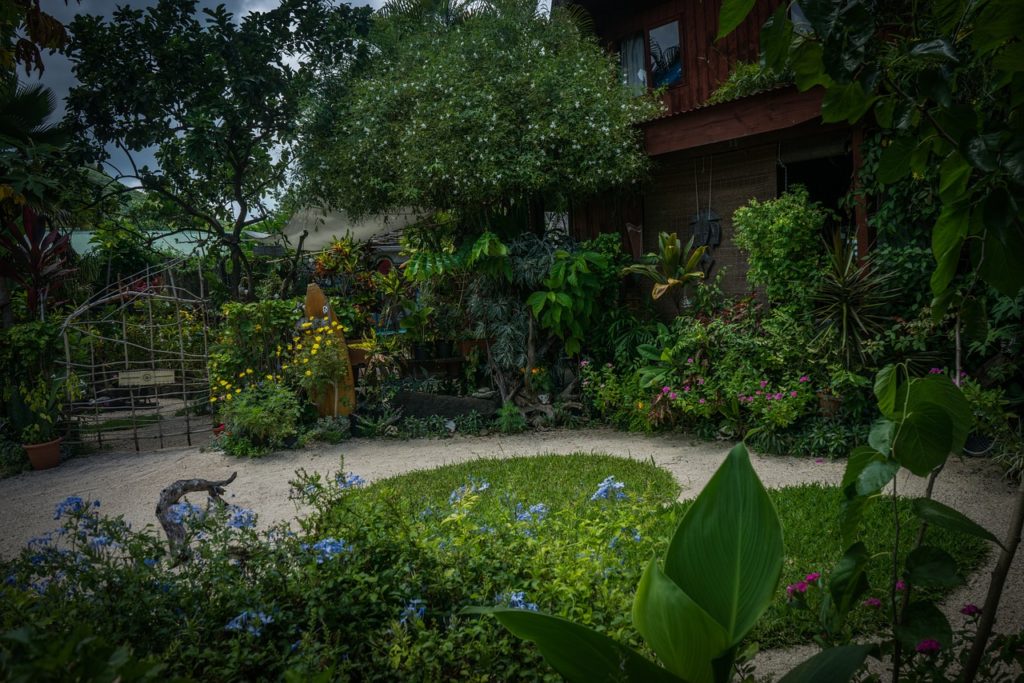 Active vacationers and new visitors to the Islands of Tahiti can partake in all the usual trappings of an active vacation. There are pearl farms to visit, tours to be undertaken by 4X4 or boat and picnic lunches to be had on the sandy motu, but Huahine is just as alluring for the low-activity vacationer.
The island seems almost made for languor. The principal settlement at Fare is perhaps one of the territory's most picturesque waterfront towns, with a petite row of terraced two-story buildings from another century standing across a quiet, tree-lined avenue from the pier, where locals gather to sell produce, fish and flowers alongside lively chats.
Double-parked cars, stopped for quick purchases or conversations are no obstacle for motorists on the nearly traffic-less avenue, for there's almost never a reason to rush en route to any destination.
I spent most of my afternoons there lingering over lunch at the Huahine Yacht Club, where waterfront picnic benches and plastic garden furniture quickly support baskets of french bread, tall glasses of local Hinano Beer and gigantic boats of raw fish dishes, burgers, steaks or salads.
The Yacht Club moniker isn't a mere branding exercise. Diners have a front-row view of the sailboats and catamarans tied up to the mooring buoys that dot the bay, and dinghy traffic to the dock in front of the restaurant.
Huahine is also a good pick for travelers wanting to experience French Polynesia on a moderate budget. The hotels here can oftentimes be booked for less than $200 USD per night during the low season, and dining costs are more in line with Tahiti or Moorea than Bora Bora (it's also convenient that listed menu prices throughout French Polynesia include tax and service).
Visitors wanting accommodations close to Fare can book the lovely Maitai Lapita Village. This three-star hotel is a collection of bungalows surrounding a salt-water lake. There aren't any ocean-front accommodations, but the bungalows, which front the lake or garden, are arena-sized with plenty of space and high ceilings with wood inlay windows that project Tahitian patterns on the interior walls when the sunlight hits them just right.
While the units aren't oceanfront, the Omai restaurant and bar has a lovely view of the ocean and the hotel's infinity pool. The kitchen serves up some of the island's fanciest French cooking, and the service is magnificently gracious.
Travelers looking for a more secluded lodging option can opt for the Royal Huahine, which is located a ten-minute boat ride from Fare. Oceanfront and overwater bungalows are available here (in addition to garden bungalows), and they're some of the country's most affordable.
The restaurant here is also overwater, so guests can take their meals with views of the lagoon and the outline of the neighboring islands of Raiatea and Taha'a in the distance. When not dining or relaxing in their bungalows, guests can take a dip in the swimming pool or avail themselves of the free kayaks and canoes stacked near the beach bar.
The Royal Huahine isn't on the island's road system, but the hotel operates a boat shuttle to and from Fare, and many excursions include pickups at the hotel's dock.
Visitors who prefer to self-tour can rent a car at a handful of agencies in Fare or at the airport (hotel concierge desks can also make arrangements). Points of interest include the pearl shop and shell museum near the airport, the belvedere (scenic overlook) in the center of Huahine Nui, the marae (temple ruins) on Huahine Iti and a handful of other shops and art galleries around the island.
Car rental rates are high by U.S. Mainland standards—upwards of $100 per day. It can be more economical to instead rent a car for half days (four hours) or days (eight hours) for island touring and grocery store visits. Per-day rates can be lower for rentals lasting more than a few days and may be a necessity for visitors staying in accommodations outside of Fare.
Drivers returning their vehicles to the rental agencies in the evening hours should remember to buy gas from one of the two stations in Fare before 5:00 p.m. when they both close.
As with most of French Polynesia, much of Huahine's haunting allure can be found in tiny snapshot moments. Sticking out in my mind was happening upon an overgrown lagoon-front soccer field in the village of Ha'apu, abandoned except for a lone cow lazily guarding a set of goalposts.
nother snapshot is the memory of getting stopped behind a school bus in Faie while a trio of boys stepped off the bus and snuck around the back to sit on the bumper. One of them saw me watching them, smiled and held a "shush" finger to his lips. When the bus started moving, they hung on for a few yards and jumped off as soon as they decided it was moving too fast before scampering into their yard.
Later, where the road winds around a sort of makeshift waterfront park near Fare, I stopped to take in the view when the strains of dance music slowly made their way up the road. Rather than a motorist blasting their car stereo, the reveler turned out to be a man on a bicycle with a large subwoofer tucked under one arm, dropping his beats for the island to hear.
With moments like these, it's almost impossible not to leave Huahine with a fond smile and an inward promise to return to the Garden of French Polynesia.
For more information about planning your Huahine vacation, visit Tahiti Tourisme.
Pacific Pulse Issue #01 – 08 January 2021